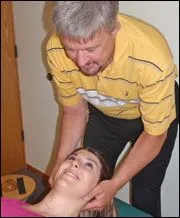 We are pain relief experts, specifically trained to treat back, neck and headache pain. We will fight your pain with some of the most advanced treatment techniques known to relieve pain from spinal extremity related conditions and conditions treated.
Disc Injuries
Personal Injuries
Headaches
Sports Injuries
Arthritis
Neck & Arm Pain
Herniated Disc
Back Pain/Injuries
Acupuncture
Tinnitus
Sciatica
Sports Physicals
Extremity Injuries
Work Related Injuries
Scoliosis
---
Facilities and Equipment
We have a full line of physical therapy modalities including, electrical muscle stimulation, interferential biphasic and high voltage galvanic. We also have ultrasound and motorized intersegmental traction.